One of the most common questions car shoppers ask when shopping for a vehicle is about its fuel efficiency. Depending on your driving needs and preferences, fuel economy can go a long way toward choosing the vehicle that's right for you. Enter Grand Wagoneer, a burly, fuel-efficient SUV with a big fuel tank to keep you on the streets of Cumming, Roswell, and Johns Creek, GA.
To learn more about the SUV's MPG, check out this review by Troncalli Chrysler Dodge Jeep Ram.
Stay on the Road Longer Than Ever Before
With this SUV at your side, you can go anywhere at any time without worrying about how many times you'll have to stop to refill your gas tank. In all four trims (Series I, Series II, Obsidian, and Series III), you'll enjoy an EPA-estimated 13 city and 18 highway MPG along with a 26.5-gallon gas tank.
GRAND WAGONEER Performance Features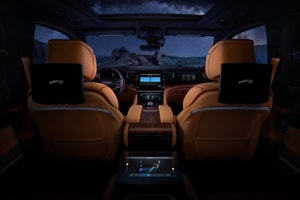 In order to keep this SUV on the road, performance is of the utmost importance. Engine enthusiasts will smile from ear to ear after they pop open the hood and see a 6.4L V8 engine that produces 470 horsepower and 455 lb-ft of torque. Because of this, the SUV can tow up to a best-in-class 9,850 pounds when properly equipped.
The SUV is also equipped with an 8-speed automatic transmission and the Selec-Terrain® Traction Management System, which will adjust performance to coincide with the type of terrain you're traveling on.
Fuel-Saving Tips
There are many tried and true ways to conserve fuel in your SUV, which can reduce trips to the gas station. By using the following tips, you can improve your MPG: 
Drive at safe speeds: Driving at the speed limit or slightly below it is a good way to save fuel because it puts less stress on your engine. This will depend on the speed limit of the road you're on.
Limit idling: When you're sitting in a stationary car while the engine is on, that's called idling, which wastes fuel. Idling for a few minutes is fine, but letting your car sit for too long will result in a loss of fuel.
Keep the windows rolled up when driving at higher speeds: On a nice warm day, there's no better feeling than driving with the windows down and letting the breeze hit you. Doing this on a road with a high speed limit can be detrimental to your MPG, however, because the drag from the wind will push against your engine and force it to work harder to perform. The best thing to do in a situation like this is to keep the windows rolled up and run the AC or heat if you need to.
Drive slower when towing: Because you'll have extra weight attached to your vehicle, you'll automatically use more fuel, but you can limit the impact by driving slower so you don't constantly strain your engine.
Have routine maintenance services performed in a timely manner: Anytime you need an oil change or tire rotation, make sure you have those services performed as soon as possible to prevent major repairs and conserve your vehicle's MPG ratings.
Take Adventure to New Heights in GRAND WAGONEER
Grand Wagoneer is the total package, and part of that package includes staunch MPG outputs and a large fuel tank to go along with amazing performance features. To experience this SUV on the streets of Cumming, Roswell, and Johns Creek, Georgia, contact Troncalli CDJR today!